45x8
65x5
85x3
105x1
125x1
135x1
145x2
Seated Leg curl
3x95x12
Seated Calf Raise
2x80x15
Ran out of time....
Haven't squatted in like 2 weeks so I'm gonna be hobbling tomorrow. But I'm also squatting 150 for 2, so there's that! I have to go back and look, but I think that was my squat goal. They're not the deepest, and not the prettiest but they aren't bad. I was supposed to do 145 doubles last week, so I wanted to try one set. Just so there wasn't a 10 lb jump between my last squat session and this one - but I had very few issues, other than being afraid of going too deep. I know the fear is in my brain, and missing a rep wouldn't be the worst thing in the world. Working on trusting the process.
Soooo travel! I'm 95% better from me second cold

,

but I'm working an extra day in a row so we can do a whirlwind tour of California. We're driving to Tahoe

this

afternoon

for a meeting and then down to So Cal

because our car needs a ton of body work done from a crazy windstorm a couple weeks back. Tuesday we meet with the body shop, and then Wednesday the insurance adjuster. Then we come back Thursday. I have no idea where to work out (terrified of walking into a Planet Fitness type place), but I am determined to get all four workouts in next week..... dammit! I'm also not sure if we'll have a car or not, so walking distance will be my friend. I will be happy to be out of the snow though!!

With the tour will be eating - Really, really want to go check out a place called the Squeeze Inn where they make cheeseburgers with a crap ton of extra cheese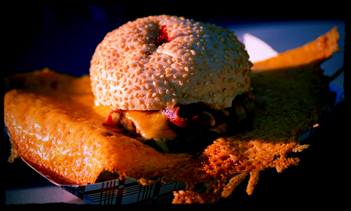 They call it the cheese skirt. Cue many hearts

Also,

f

inally got

my pup's

biopsy results back, and.... we still don't really know. The biopsy came back as melanoma, but the vet was saying that some benign tumors can show as melanoma in this test and there is a more expensive test that check the cell metabolism (or something like that) that can tell you if the tumor really is malignant or not. She's going to speak to the Oncologist and then call me back. This test is $500, so much more than the original biopsy, but I don't really know what it would do for us. I don't want to put my dog through chemo or anything, that's for me, not for him. He's happy now, and I want him to enjoy his time here, whether it's one year or eight. Would I do anything different if it was malignant? Probably not. But this crap is killing me. Every time I adopt a new dog, I know I am just signing myself up for more heartbreak in the future. The curse of a dog parent!